Operational Model
Tox21's federal partners include the Environmental Protection Agency (EPA), the Food and Drug Administration (FDA), and the National Institutes of Health (NIH), with leadership from the National Center for Advancing Translational Sciences (NCATS) and the National Toxicology Program (NTP) headquartered at the National Institute of Environmental Health Sciences (NIEHS). These agencies work together to advance Toxicology in the 21st Century by developing methods to rapidly and efficiently evaluate the safety of commercial chemicals, pesticides, food additives/contaminants, and medical products.
Partner Roles
Each of the partners in the Tox21 collaboration brings key expertise, including: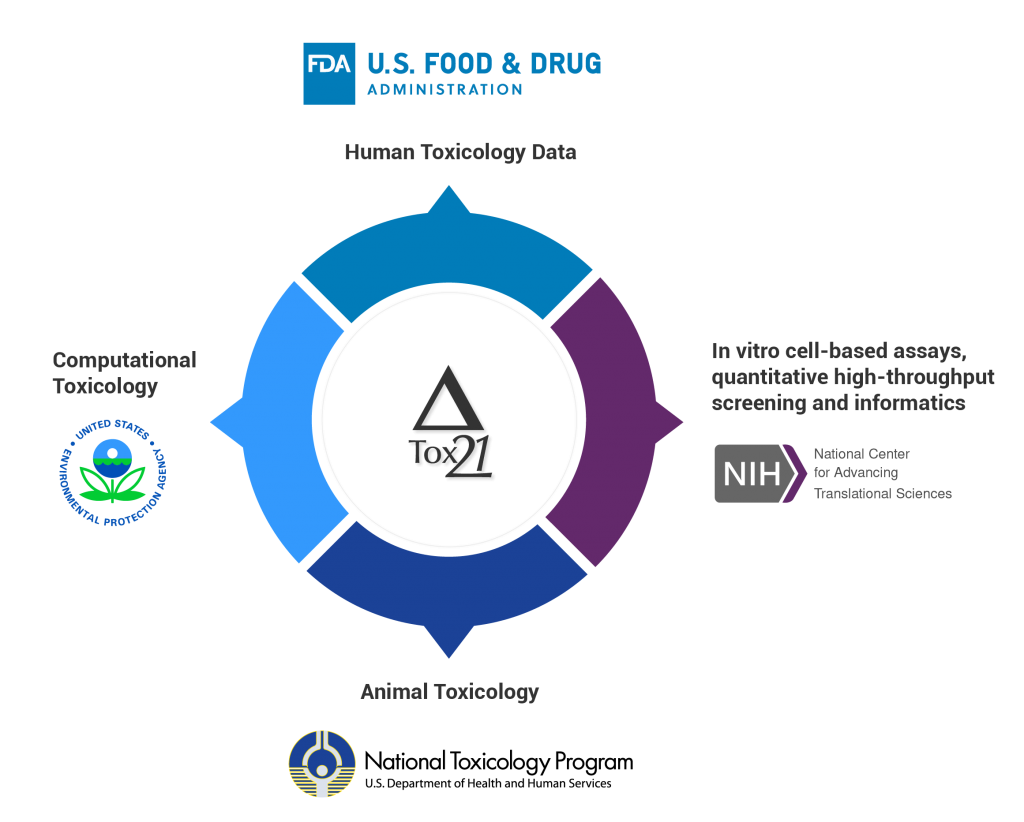 The completed first phase of Tox21 involved testing of 2,800 compounds in more than 50 assays using the high-throughput robotic screening system now at NCATS. The resulting data are available in public databases, such as the National Library of Medicine's PubChem, the EPA's ToxCast, and NTP's Chemical Effects in Biological Systems.
The second phase of Tox21 involves testing a collection of more than 10,000 compounds (Tox21 10K library). The initial focus was on creating assays to test each compound's effects on nuclear receptors (AhR, AR, ERα, FXR, GR, PPARδ, PPARγ, TR and VDR) and stress response pathways (p53, NF-κB, pH2AX, endoplasmic reticulum stress, mitochondrial membrane potential, ARE/Nrf-2, heat shock response and DNA damage).
Consortium partners continue to develop a range of secondary and tertiary follow-up assays to further define and characterize activities identified in the initial high-throughput screens. All testing results are made publically available through NIH and EPA chemical toxicity databases. In addition, NCATS created a free Tox21 chemical inventory browser, which provides researchers with additional information about the chemicals.
The third phase of Tox21 will focus on enacting the new strategic and operational plan. Tox21's new strategic and operational plan expands the focus of its research activities in order to more broadly address the challenges in toxicology. The new focus areas include developing an expanded portfolio of alternative test systems that are predictive of human toxicity, addressing technical limitations in in vitro test systems, curating legacy animal (in vivo) toxicity testing data, establishing scientific confidence in the in vitro test systems, and refining alternative methods for characterizing pharmacokinetics and disposition in in vitro assays. Initial research activities under the new strategic vision and operational plan include eight cross-partner projects. The cross-partner projects may change over time depending on priorities and research outcomes.
Assay Proposals
Although Tox21 experts optimize internally developed assays and screening methodologies, they also accept and evaluate assay proposals submitted by outside investigators, both within and outside the government.
Points of Contact
---
Assay Evaluation and Screening
Identify toxicity pathways & corresponding assays
Review nominated assays
Prioritize assays for qHTS
Co-Chairs
---
Chemical Selection
Establish compound libraries for qHTS (10K, mixtures, water-soluble)
Establish library QC procedures for identity, purity, concentration, and stability
Co-Chairs
---
Communications Team
Provide both external and internal communications support for the Tox21 program
Co-Chairs